Home >Products >Solder Paste Dispensers >

Details
Auto Solder Paste Applicator
---
Auto Solder Paste Applicator – Pneumatic Solder Paste Dispensing Machine China Supplier
This pneumatic solder paste applicator is more expensive than the 982 solder dispenser and 983A solder dispenser, Comparing with normal glue dispensers, it has better performance of working on viscosity adhesive, for example solder paste demanding output 70 psi or 80 psi to support dispensing, because this electric dispenser contains one premium electromagnetic valve, which increase the outburst of air power and improve the accuracy of dispensing.
suitable for fluids and adhesives with high thickness, for example Glass glue, silicone glue, solder pates etc. If you want to dispense thick paste or adhesives, I strongly recommend this 668 dispenser to you. If you use this dispensing machine for normal glue, I suggest you buying our cheap version 982 glue dispenser.
There are 2 different work modes, the first one is Manual mode, which can be used to write line, when you step the foot pedal, the machine starts working, spitting out the fluid from the tip continuously til the trigger is released, the dispensing time is controlled by operator completely. The second work mode is Automatic mode, technically speaking, which is semi-automatic way, because although dispensing amount each time is quantitative, the interval duration can't be controlled. You can set the dispensing time easily through the switches on the front panel. for example, If you wanna adjust the dispensing time to 2.5 seconds, just do it on the front panel, the display screen will show 02.50, when triggering the starting switch one time, the syringe tip responds to dispenses glue immediately, the number on the screen will decrease til it becomes zero.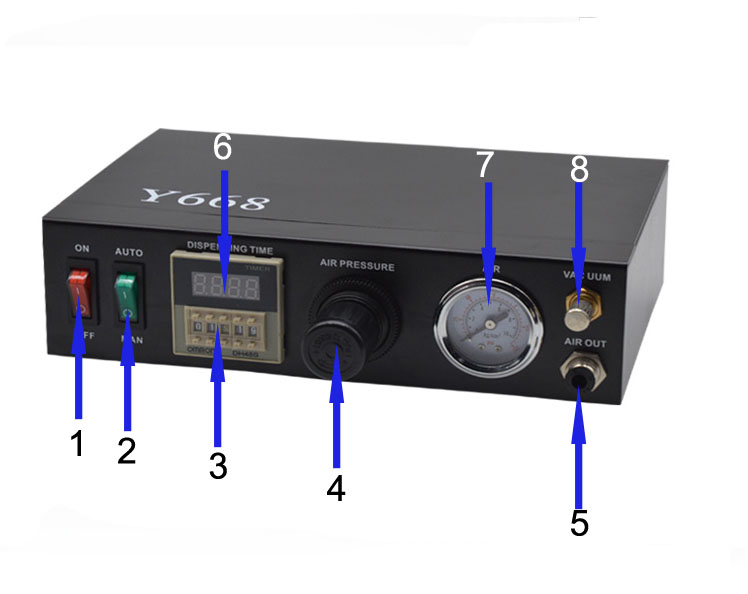 Power Switch
Operation mode: Manual mode(MAN)&Automatic mode(AUTO)
Set dispensing time range from 00.01s-99.99s
Adjusts the output air pressure range from 1 psi to 100psi
Air out socket, where to connect the air tubing applicable to syringe
Display screen showing the dispensing time
Air pressure gauge, users view the air pressure for the bucket clearly through it
Metal knob to adjust the vacuum back suck intensity
Air in socket, where to connect the air tubing of air compressor
Foot pedal jack, which is 3 pin plug
Power line socket
Connect all primary parts with controller and plug in AC power of 110V/220V. Please note the size of dispensing needle is very important, in order to make sure fluid can flow smoothly in the tip, please use thicker tip If the fluid is thick adhesive or paste.
Filling syringe barrel with the fluids or paste, then cover the piston. please note that stuffing amount can't exceed the warning line of barrel, trying to get air between piston and material out as much as you can, connect the syringe with output tubing of controller.
Start up and pull out the AIRE PRESSURE knob to regulate the pressure slowly, the range available is from 1 psi to 100 psi.
press the mode button to AUTO to set the dispensing time dripping each time, the adjusting range is 0.01s to 99.99s, which is very easy to operate. Users can do experiment repeatedly on the paper through triggering the switch, at last you will get a satisfactory result of dispensing time, then finalize this number, the set time will be displayed on the screen accordingly. The number will diminish to 0 as long as someone steps the foot pedal, during this period of time, fluid comes out from the tip continuously.
If you wanna use MAN mode, it is much easier, because you don't need to adjust the dispensing time each time. What you need to do is keeping the foot pedal pressed constantly, the fluid in the barrel will drip continuously till the trigger on the foot pedal is released.
Vacuum function is useless for thick fluid like solder paste or glass glue, because the material itself is already very thick, which doesn't drip from the tip during the interval.
Please check from 3 points If the dispensing machine can't work smoothly: enlarge output air pressure, extend dispensing time or change to newly thicker tips.
Attention:
This glue dispenser has to use air source to support working, so you have to own an air compressor(you could consult us If you have no air compressor).
It is designed for thick glues or paste.
The limit of input air pressure is 100 PSI, the limit of output air pressure is 75 PSI.
Clean the tip after use each time, syringe can be used for a few times, we sell various dispenser accessories of solder paste dispensers including different sizes of syringe, hoses, adaptor, tips etc.
Package comes with one controller unit, two pieces 30cc syringe, one piece Syringe adapter, one piece foot pedal, one piece air-in hose, one piece syringe hanger, five pieces tips, one piece power wire, one piece manual instruction.
Payment methods: T/T(Telegraphic Transfer), Western Union, MoneyGram, Paypal.
Payment Terms: Full payment before shipment.
Delivery Terms: EXW, FOB, CIF, DDU, DDP optional.
Shipping methods:
1)Door to Door - Via International Express: DHL/FedEx/UPS etc. - Shipping time: 3-7 days.
2)Door to Seaport - By sea: Maersk, MSC, CMA-CGM, Evergreen, Cosco, APL etc. - Shipping time: about 1 month.
3)Door to airport - By plane - Shipping time: about one week.